Zulu Warriors
Zulu Warriors
3 October 2019 (by admin)
Our children loved the Zulu Nation Theatre performance and workshops.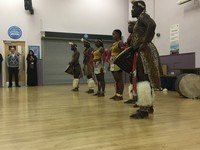 In partnership with Storey Productions (SA) and, The Mighty Zulu Nation Theatre Company, has been acclaimed by educationalists as the most outstanding educational group currently touring the UK.
The main motivation of the project is to provide a unique cultural experience that merits the development of a creative foundation, designed to stimulate individual integrity.