Year 4's aspirations!
Year 4's aspirations!
10 May 2023 (by Gareth Taylor (GTaylor))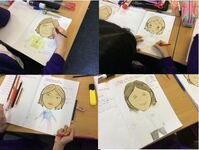 In Year 4's PSHE lesson this week, the children were thinking about their aspirations for the future. They had to 'visualise' themselves as adults and think about: Where they are, what they are wearing, how they feel and most importantly, what they are doing.
Some of the children in 4C were discussing about how they would like to be famous footballers, singers and nurses!