Dia de los Muertos
Dia de los Muertos
3 November 2022 (by Amy Henderson (AHenderson))
This week RS enjoyed learning about Dia de los Muertos!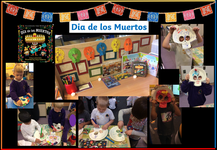 This week we have enjoyed exploring the ancient tradition of Dia de los Muertos or day of the dead, still celebrated today in Mexico.
For 3 days, this tradition celebrates life and death, remembering loved ones who have passed away by in order to keep them in our hearts.
November 2nd was the final day of these celebrations so we took the time to find out more, create our own alter with cutout bunting or papel picado, drawings of our loved ones, and then created cheerful, colourful skull mask designs!