Story Competition Winners
Story Competition Winners
9 March 2022 (by Clare McGreevy (CMcGreevy))
Here are the fantastic winning entries for our school story competition based on Tom Gauld's brilliant book, The Little Wooden Robot and the Lost Princess!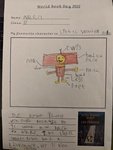 Tom Gauld has read all winning entries and was very impressed that the children had written so well in the short time limit of 30 minutes with a limited word count. He has given the following feedback to our worthy winners:
Ayden - 1P (KS1 winner). I thought the drawing was charming and I especially liked that it was a labelled diagram (I love diagrams). The writing was equally good and true: he is kind and caring. Thanks Ayden!
Jojo - 4S (Lower KS2 winner). I thought the spooky atmosphere in this story was conveyed beautifully: I was really worried about the robot. Then even more worried when the wagon was stolen! I liked that you showed us how much the wagon (and the sister in it) mattered to him. Great work!
Alinane - 6C (KS2 winner). I was impressed that this told such a satisfying story in only one page. I liked the classic fairy tale touch of a character cleverly using a riddle to get what they wanted. Well done!