Hibernation Experiment
Hibernation Experiment
1 December 2021 (by Amy Henderson (AHenderson))
We learnt more about hibernation and how animals keep warm through the winter.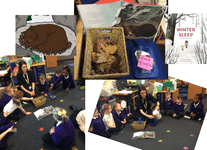 In RS we read 'Winter Sleep - A hibernation story' about different animals that sleep during winter as it is too cold and there isn't enough food for them.
We decided to do an experiment to see if hibernating would actually keep an animal warm, using hot water bottle bears. One bear was asleep in a cosy cave, covered in leaves and one was asleep outside. Which do you think stayed warm the longest?