A Snowy Morning
A Snowy Morning
9 February 2021 (by Amy Henderson (AHenderson))
Our reception bubble has really enjoyed investigating and playing in the snow this morning.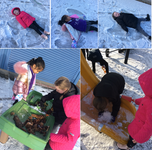 The children who are currently in school in our reception bubble have enjoyed investigating the snow in our outdoor area. Could you get some warm clothes on and explore the snow outside of your home?
The children have enjoyed building snow castles using their buckets and spades to collect the snow from different areas, until they got frosty fingers! Our dinosaur habitat was turned into a snowy volcano where the dinosaurs needed rescuing. We have also tried making snow angels and found that the snow stuck to our backs.