Snowy Environments
Snowy Environments
26 January 2021 (by Amy Henderson (AHenderson))
Reception have been making their own snowy environments at home!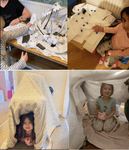 As part of our home learning, reception have put together snowy and icy worlds using items from around their homes. Some children went outside in search of real life items to use in their snowy scenes and some made igloos that look much more cosy than the real ones made from blocks of ice!
Thanks for sharing your creations RS, RC and RP.