Home learning - Mad about dinosaurs
Home learning - Mad about dinosaurs
27 March 2020 (by Amy Henderson (AHenderson))
Reception class RS have been completing a range of dinosaur activities during this week of home learning.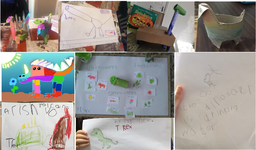 Many of us have been learning at home for a week now and have been working hard to complete a range of activities. Our theme has been dinosaurs, after watching 'Mad about Dinosaurs' being read to us online many children from RS have carried out research using the Sandbrook login for Espresso, written about dinosaurs, drawn pictures and created our own little dinosaurs using toilet roll tubes - all at home! Keep up the hard work!
Finally, thank you to all the effort parents have been putting in at home, you are doing a fantastic job.
You can listen to the story 'Mad about Dinosaurs' by Giles Andreae and David Wojtowycz through the attached link.