Making our Kites
Making our Kites
6 March 2020 (by Amy Henderson (AHenderson))
Reception worked really hard this week to design and make our own kites.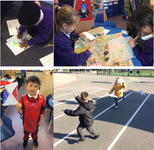 This week, we wanted to create our own kites - just like the one that Floyd has in our story 'Stuck', by Oliver Jeffers.
We drew our own designs, then we made our kites to match the design and finally we got to fly them. Although there wasn't much wind, we really enjoyed running fast to help our kites fly. We hope you enjoy flying them at home too!