Library Visit
Library Visit
24 January 2020 (by Rebecca Lord (RLord))
Year 1 are fortunate to visit the library, 1 class every week.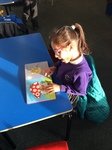 When we arrived, we had a lovely chat discussing what the library was and how it can help us. We discussed what is okay to do in the library and what we shouldn't do. The children really enjoyed their visit and were so excited to read some of the lovely books. It is free to join the library, so if you haven't already take your child to the library, join and enjoy some reading time together.
Here are some pictures of 1S.