World Book Day in RS
World Book Day in RS
3 March 2022 (by Amy Henderson (AHenderson))
What a fun day we had today! With a greeting from 'The Shark in the park' on the gate, to all our fun World Book Day activities - we were very busy!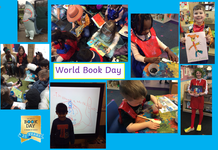 In RS, we checked out all of our friends costumes, drew our characters, started to make our character story spoons using some of our favourite characters from stories we know, had a hot chocolate treat in the Book Nook outdoors, with some year 6 helpers who read us a few stories, and shared our own favourite stories from home during our 'Share a story' reading time. Wow!
What was your favourite part of today?