Mystery Footprints in Reception
Mystery Footprints in Reception
13 January 2022 (by Amy Henderson (AHenderson))
Who left these mysterious snowy footprints?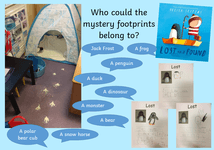 We discovered some mystery footprints in our classroom this week. Who could they belong to?

The children came up with lots of their own ideas. Can you remember who left them?
We read our story for the week – Lost and Found by Oliver Jeffers and wrote our own Lost posters for the poor penguin.
Can you describe your penguin to someone at home? What does it look like?