Year 6 Book Blanket!
Year 6 Book Blanket!
12 December 2021 (by Clare McGreevy (CMcGreevy))
Year 6 have been browsing lots of lovely new books with a Class Book Blanket!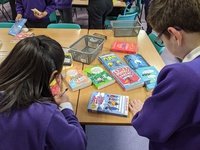 Year 6 can't wait to get stuck into the fantastic new titles recently delivered to our classes! A great way to delve into a new collection is through a Class Book Blanket. A Book Blanket is is a large spread of books placed all around an inviting reading space. They enable children to informally discuss texts with friends and to make personalised reading lists. A Book Blanket can also help teachers to discover children's reading tastes and enable them to find materials that they will really enjoy.