Sandbrook's very own Dippy!
Sandbrook's very own Dippy!
12 June 2020 (by admin)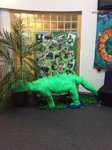 Just before lockdown, the children in Reception were busy finding out all about dinosaurs. We had lots of lovely conversations and shared some amazing ideas, when we found some giant eggs in our outdoor area. We also did dinosaur paintings, made dinosaur masks and created repeating patterns with dinosaur prints.
We were hoping to go and visit Dippy the dinosaur in Rochdale but sadly that wasn't possible. Instead we made our very own Dippy who is going to wait in the school entrance hall ready for when we all return to school.
Click on the link below to see our Dippy page and the rest of the photos!